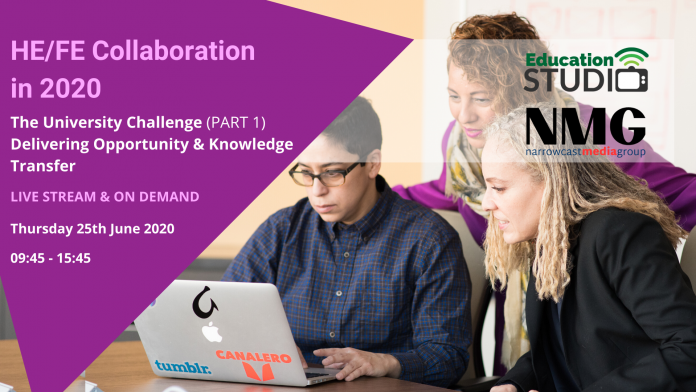 Welcome to the live stream page of HE/FE Collaboration in 2020.
The ability of universities to develop their relationships with Further Education, open up to new entrants and work effectively with business looks increasingly central to future government funding.
This programme aims to give insight into how these issues are being tackled by leading innovators in HE.
This event will stream live below from 09:45 to 15:45 on Thursday 25th June.
To view the chat function, please log in to the chat as a guest (or with your Facebook or Vimeo account, it is up to you). This will enable you to ask questions, vote in polls and discuss the issues raised with other viewers. This functionality is optimised for Google Chrome.

Programme Schedule:
09.45: Chair's introduction
Neil Stewart, Editorial Director, The Education Studio
Rt Hon Charles Clarke, former Education Secretary; co-author, The University Challenge
10.00: Why form an FE partnership?
Professor David Phoenix OBE, Vice Chancellor, London South Bank University
10.20: Bridging the binary divide
David Hughes, Chief Executive, Association of Colleges
10.40: Panel discussion and questions from online audience
11.00: Break
11.10: Working with business
Stephen Isherwood, Chief Executive, Institute of Student Employment
11.45: Teaching models
Fiona Morey, Executive Principal, Lambeth College
12.15: Panel discussion and questions from online audience
12.30 – 14 00: Break
14.00: Connected Higher Education: Connected to FE, schools and work
Dr Greg Walker, Chief Executive, MillionPlus
14.15: Dr Greg Walker will be joined by:
Professor Liz Barnes CBE, Vice Chancellor and Chief Executive, Staffordshire University
Rebecca Mameli, Head of Higher Education Research and Qualifications, Pearson UK
Mark Hilton, Executive Director People, London First
The above speakers have 10 – 15 mins each, followed by a panel discussion and questions from online audience
15.45: Close of conference